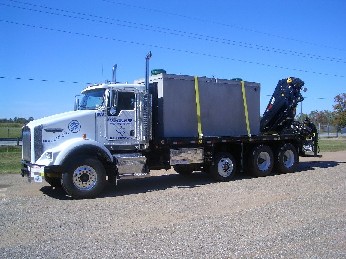 Welcome to Pro Flo Aerobic Systems headquartered in Waller, Texas.
The Pro Flo wastewater system is an aerobic septic system capable of turning residential household sewage into a clear odorless liquid within 24 hours. The Pro Flo aerobic system (or aerobic wastewater system) offers an energy efficient quiet linear aerator, durable reinforced precast all-in-one concrete tank (500SLPT2 only), simplistic control panel (not computerized), and cast in place Tuf-Tite ® watertight risers and lids resulting in an easy to maintain aerobic septic system that offers excellent performance at a reasonable price and years of worry free and dependable operation. We offer several models to fit your septic system needs ranging from 500 gallons per day up to 1500 gallons per day. Our aerobic septic systems are suitable for residential and small commercial sewage treatment system applications.
At our sister company, Gatco Treatment Systems, LP also located in Waller, Texas (www.gatcotreatment.com) , we can customize and build concrete septic tanks, pump tanks, and grease traps to meet your specific sewage treatment system requirements.
We invite you to stop by our store located at 20222 FM 362 in Waller, Texas. We are stocked with a full line of aerobic and septic system products designed specifically for your use in the wastewater industry.
Listed below are some of the items we stock. Call us with your order and if we don't have the item in stock we can usually have it the next business day.
Aerobic Systems & Septic Tanks * Lift Stations * Grinder Pumps * Effluent Pumps * Lift Station Pumps * Spray Pumps & Floats * Control Panels * Drip Emitters * Gravelless Pipe * Infiltrator Panels * PVC Pipe & Fittings * K-Rain Valves * Sprinkler heads * Flow Dividers * Electrical Supplies * Chlorine & Chlorinators * Tools * DeKorra Decorative Rocks *Valve Boxes * Replacement Aerators * Septic System Chemicals
Pro Flo is proud to be part of an increasing effort to improve our environment and keep our waters clean and safe. Old style septic tanks and septic systems with drain fields can pollute our environment. So whether you have a failing system that needs replacing or you are looking for a quality aerobic system for new construction, start with the "Pro" and end with the BEST!
Download Brochure. You will need the Adobe Acrobat Reader. You can get it free from Adobe.com or click our shortcut below.